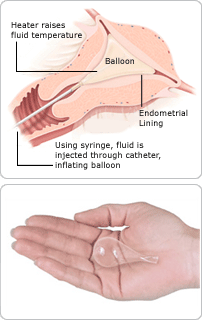 Uterine Balloon Therapy System
The GYNECARE THERMACHOICE Uterine Balloon Therapy System is a one-day treatment option designed to end heavy menstrual flows by removing the lining of the uterus.
This medical device resolves heavy menstrual periods (clinically known as menorrhagia) due to benign causes in premenopausal women who have completed childbearing. Unlike hysterectomy, which takes out the entire uterus, the device only treats the lining of the uterus with heat through a process called endometrial ablation.
GYNECARE THERMACHOICE has been used by physicians for 8 years and has been used in more than half a million women worldwide. It is now being used during a minimally invasive 8-minute treatment that can be performed with a local anesthetic in the convenience of a gynecologist's office, eliminating the need to go to the hospital and making it easier to schedule it into your busy life. Recovery is fast and most women can return to their normal activities by the next day.
All Medical Procedures Present Risks. For a complete description of risks related to this treatment, please see the adverse events section of the

Essential Product Information [pdf 430 KB]